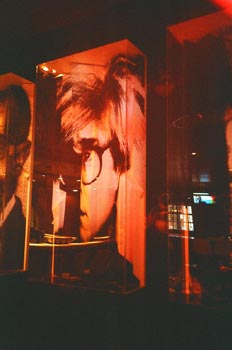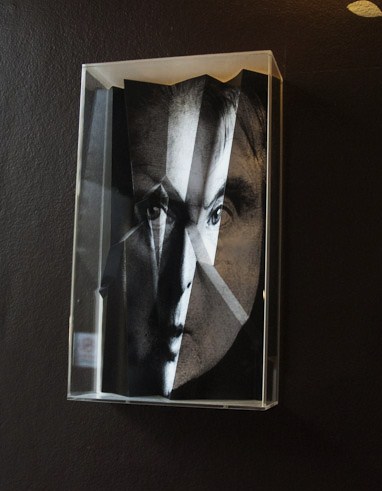 :::: Exhibition extended by popular demand :::
CONTACT ROBERT KINGDOM:
+44 (0)20 7731 4256
email robert kingdom:

New display at the Chicago Rib Shack in Knightsbridge!

Robert Kingdom and Arden and Anstruthers invite you to a preview of the FACEtS photographic portraits.
8a Thurloe Place
London SW7 2RX
(opposite Victoria & Albert Museum)
020 781 5553
underground: south kensington
::::::::::: Exhibition extended by popular demand ::::::::::



As long as Robert can remember he has fiddled with paper, idly folding a ticket on a bus, then presenting a spot-check inspector with an exotic creation. One day he folded a face and loved how it added to the image.
This new way of looking at photographic portraits reveals hidden depths of character and personality in their folded surfaces, slowing down the seeing experience of the eye as you approach and pass, chic behind their plexiglas frames.
As Arnold Brown at New Directions comments: 'These "new" photos are such a startling change to one's perception of portraiture that they may have a similar effect on the public as the one Picasso had in Paris when he first introduced his cubist women.'
With sell-out shows at Arden and Anstruther in West Sussex and at The Chelsea Arts Club in London, people would seem to agree. A set of five are also to be seen on permanent display in the newly refurbished Radisson Hotel on Edinburgh's Royal Mile at 80 High Street.
Kingdom is happy to undertake commissions.