Lockdown Works
I'd written a new solo show, this time about the satirical writer Evelyn Waugh: Bloody Brideshead Two Faces of Mr Evelyn Waugh.
(
Play committed to memory and ready to go. Then Lockdown, like all theatre and creative projects, brought to a halt. So how to keep the creative juices flowing, when you can't go out, and shops for materials closed anyway. I looked in drawers and cupboards and under beds for the potential from previous projects. Make do and creatively mend. Day by day, I produced a series of two portraits in one picture, making connections for interesting couplings.

Mr Kingdom's Queen Victoria,


or

(A Little of What You Fancy..
)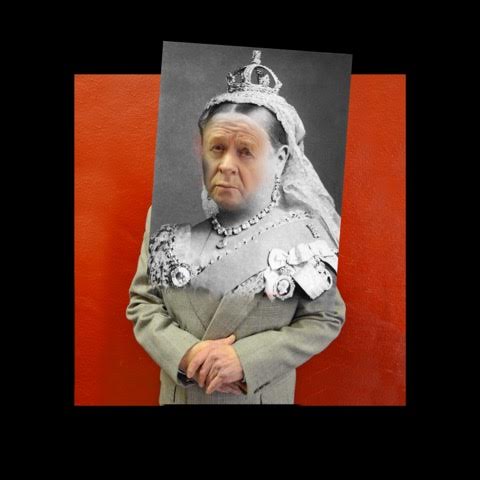 The queen who ruled a kingdom (and an empire) as you've never dared think of her before. A bitingly irreverent, painfully funny and strangely moving new show from legendary Fringe First Award winner Bob Kingdom (Dylan Thomas: Return Journey, The Truman Capote Talk Show).

His past productions have enjoyed UK and international success:
***** Critics' Choice in Guardian, Times, Time Out, Telegraph, Independent and New York Times.
'Bob Kingdom is magnificentt' (Variety.com)
'One of the crowning achievements of the acting profession' (New York Observer)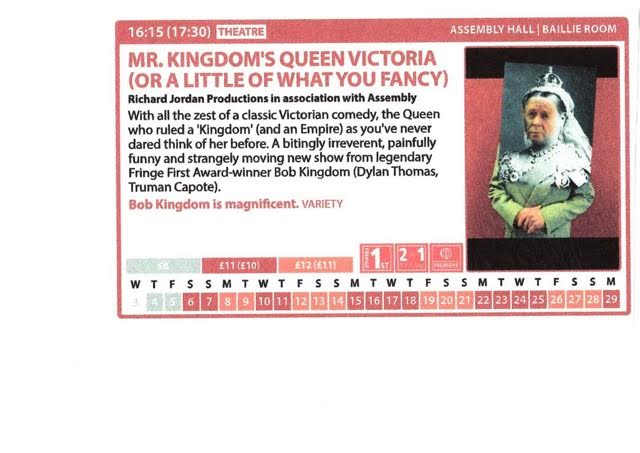 ***** Critics' Choice in Guardian, Times, Time Out, Telegraph, Independent and New York Times.*****